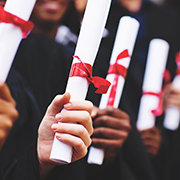 Founders Scholarship
At First Community, we are proud of the legacy forged by our credit union pioneers such as Elsa Hagen, Frank Walsh and Walter Nelson. As a financial cooperative, supporting our communities is a core value of ours. The First Community Founders Scholarship was established to help support students, throughout the communities we serve to afford the cost of higher education.

If you are a graduating high school senior or a returning college student, here is an opportunity to apply for one of eight $1,500 scholarships.

Applicants must adhere to the application requirements, as set forth, to ensure consideration. In order for your application to be considered, it must be complete, received by the stated deadline and accompanied by all requested supporting documents.


Am I eligible?
You must meet the following requirements to be eligible for an First Community scholarship:
A member of or have an immediate family member who is a member of First Community. Immediate family members of First Community Credit Union management and officials are not eligible.
A 2016 graduating high school senior with a cumulative high school GPA of at least 3.50*, or currently enrolled in an accredited college or university with a cumulative GPA of at least 3.50*, or enrolled in an accredited trade school with passing competencies equivalent to a 3.50* GPA.
Enrolled in a full time course of study of 12 credits or more.
* On a 4.0 scale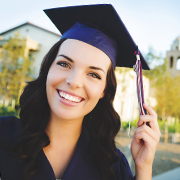 How do I apply?
Complete the fillable
scholarship application form
which includes:
Personal information and qualifying member's information
Information about the college, university or trade school you plan to attend
A list of activities, experience, awards and accomplishments
A 500 word essay describing:
What do you plan to study in your continuation of formal education and why? What do you hope to accomplish when your education is complete? How have you prepared to meet your educational objectives?
A personal statement of values
SAT and/or ACT Score (SAT scores are required for graduating seniors, ACT scores are optional)
The following supplemental documents must be submitted together with your completed application:
An official copy of your most recent high school or college transcript to include up to 5 trimesters
Two letters of recommendation
Applications must be postmarked by or remitted in person, on or before 5:00 PM on April 1, 2016 to: First Community, Attn: Scholarship Committee, 200 N Adams Street, Coquille, Oregon 97423. Neither applications nor supplemental documents will be accepted via fax or email.
How am I notified if I won?
The First Community Scholarship Program is administered by the First Community Credit Union Scholarship Committee. Scholarship recipients will be notified by phone and/or email on or before 5:00PM on May 31, 2016.
If selected, when will I receive my scholarship funds?
First Community will award eight $1,500 scholarships to applicants as selected by the scholarship committee. Funds will be distributed to the financial aid office of the recipient's learning institution 30 days before the date of planned attendance.