Coming May 9th...a new look to the same online banking you're used to. We've added new features to make banking online even better. Here's a sneak peek at what you can expect to see.
New features coming May 9th!
+
Responsive Design
The webpage will automatically resize based on the device you use to log into online banking, making it easier to view and navigate the site.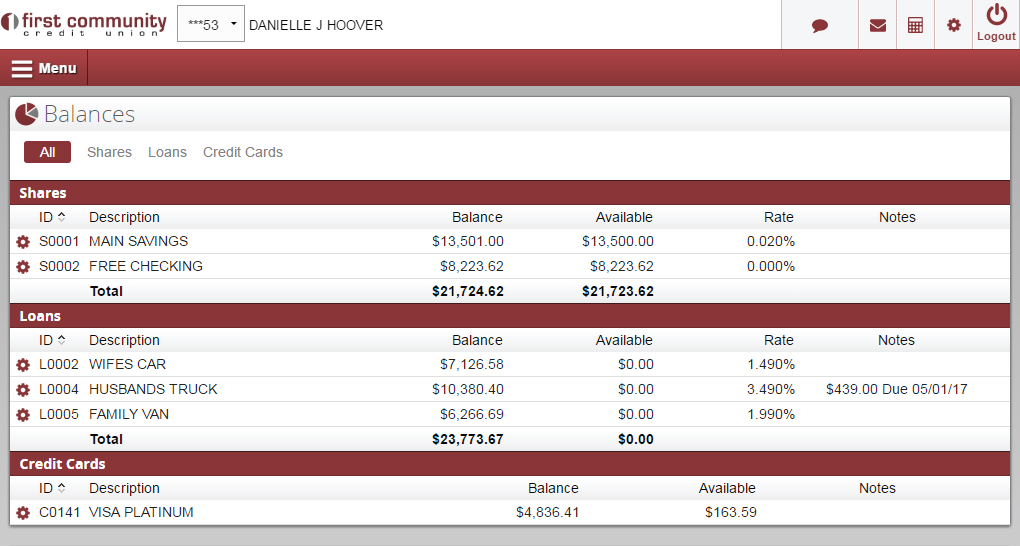 +
Panels
The addition of panels allows more of your account information to be displayed on the page.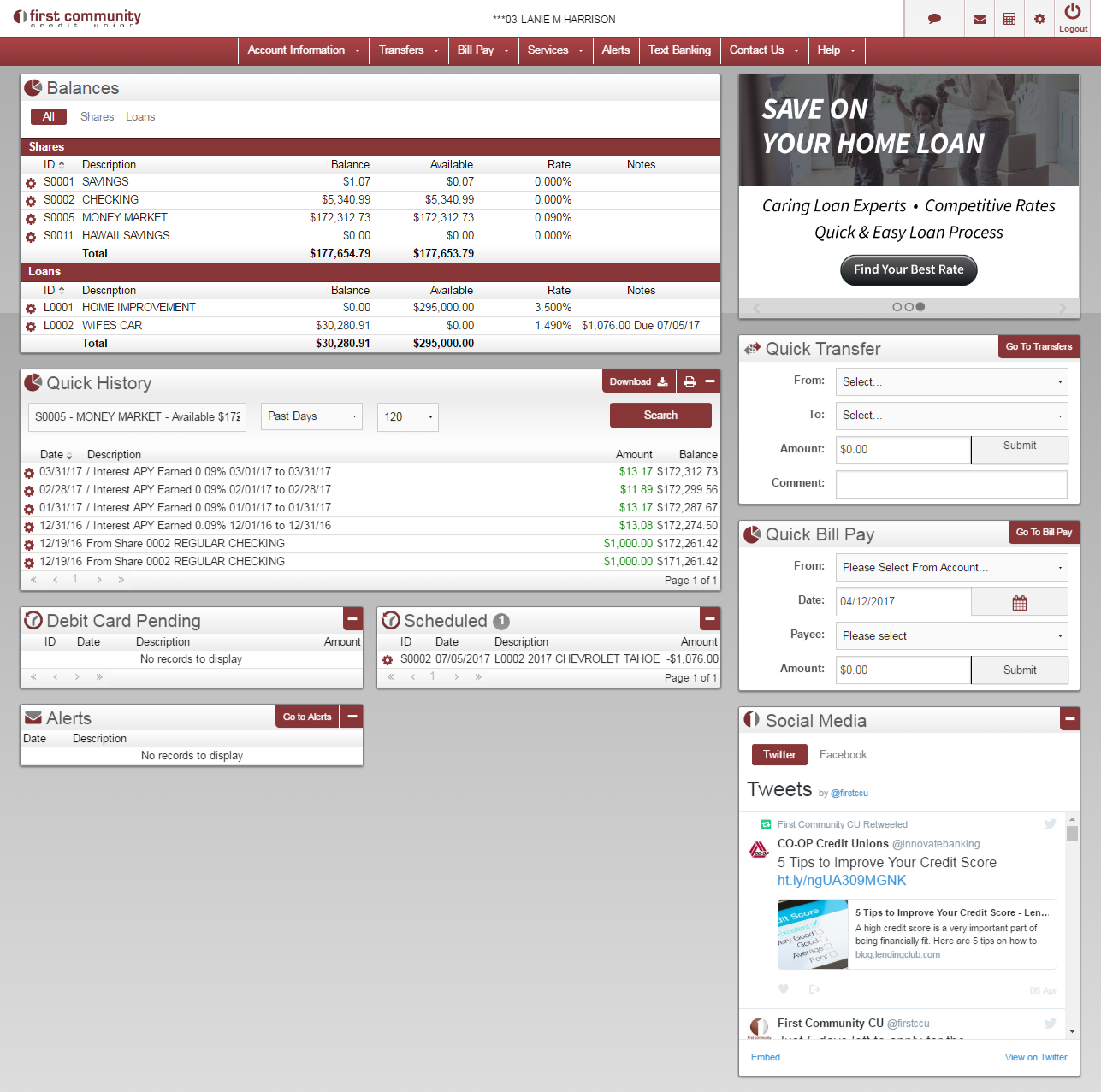 +
Make Cents
Build your savings when you round up your purchases. Make Cents allows you to build your savings quickly by automatically rounding up spare change from your debit card purchases.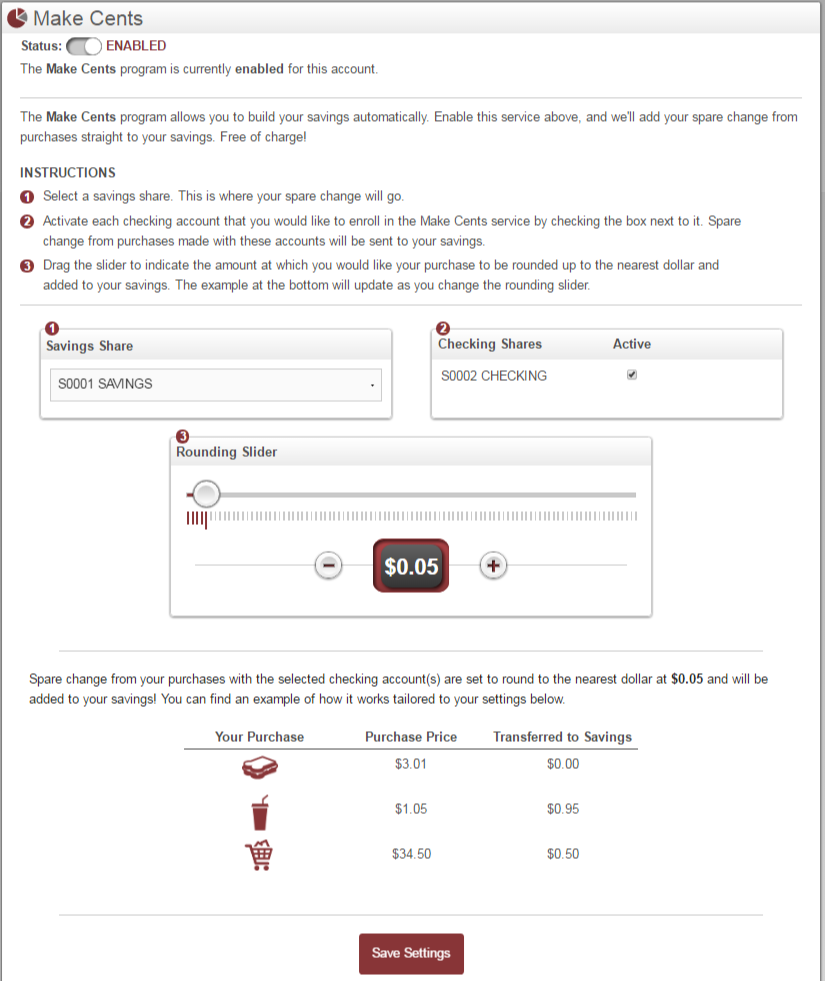 +
Secure Messaging
Secure Messaging now allows attachments to be sent between members and the credit union. Members can attach the following file types when sending attachments through the secure messaging mailbox: .pdf, .jpeg, .gif and .png. The credit union can also send secure attachments to members in .pdf and .doc file types.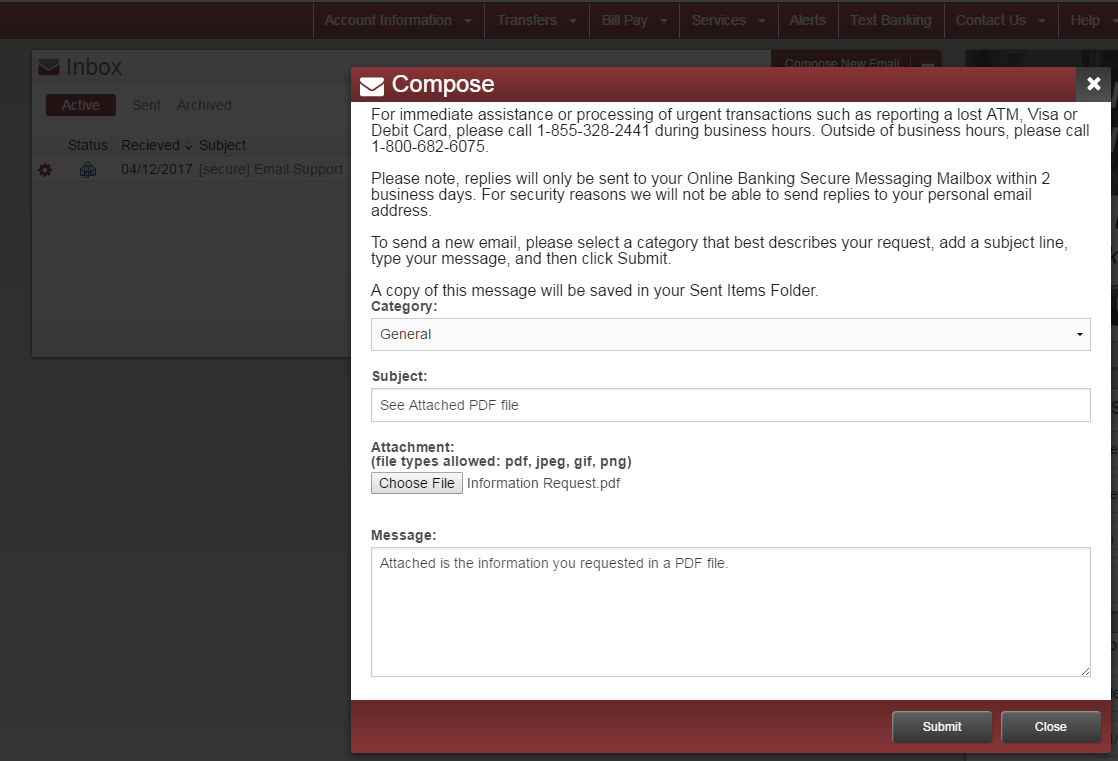 +
Bill Pay
Make Payments and Manage Payees in Bill Pay with a click or two from the simple menu at the top.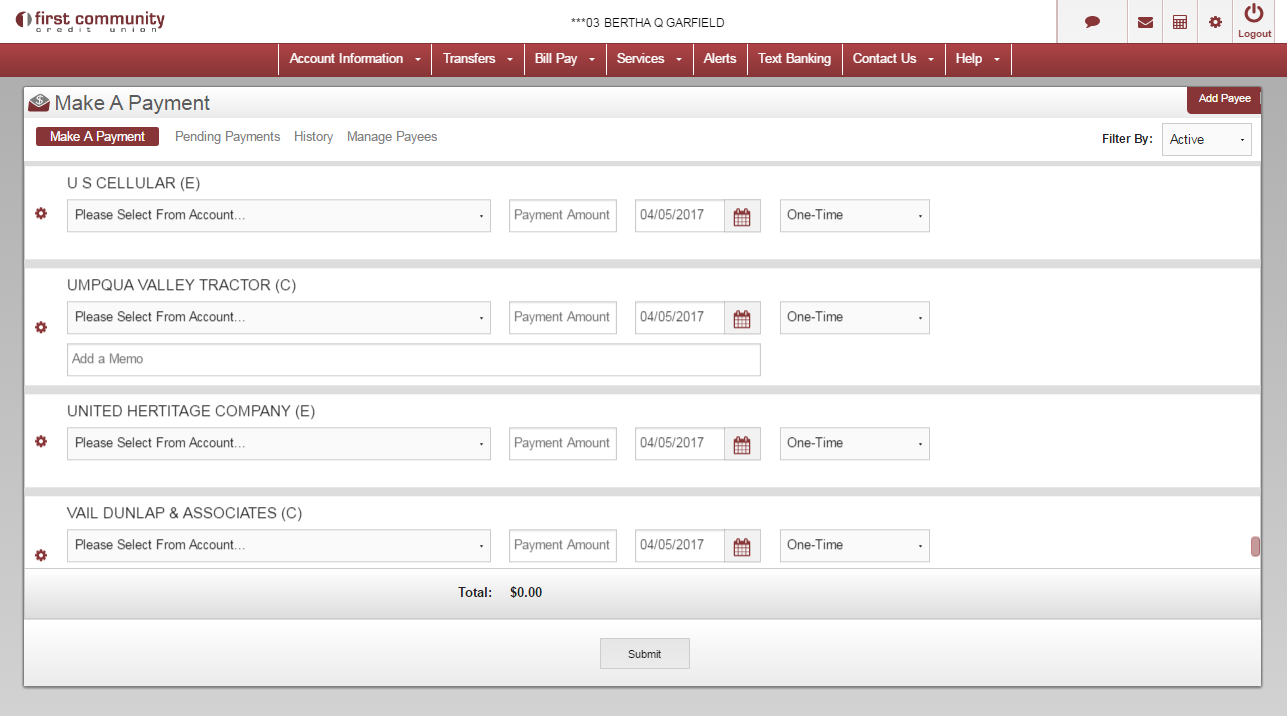 +
Bill Pay Archive
The Bill Pay Archive is where you can locate any Bill Pay history that occured prior to the upgrade on May 9, 2017.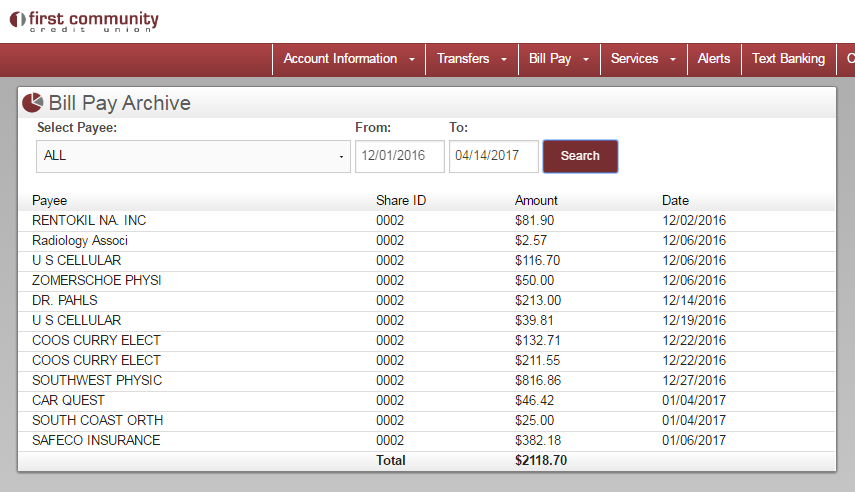 +
Mobile App
Secure login with ID touch/fingerprint (iOS only), check balances and view history with Express View and Mobile Deposit. ID touch/fingerprint login and Express View can only be enabled on one account per owner.
Mobile Deposit: Deposit checks fast when you snap a picture of the front and back of a check with the camera on your mobile device.
Login to your account with ID Touch/fingerprint. It is secure and quick (iOS only).
Express View: Check balances and view history instantly.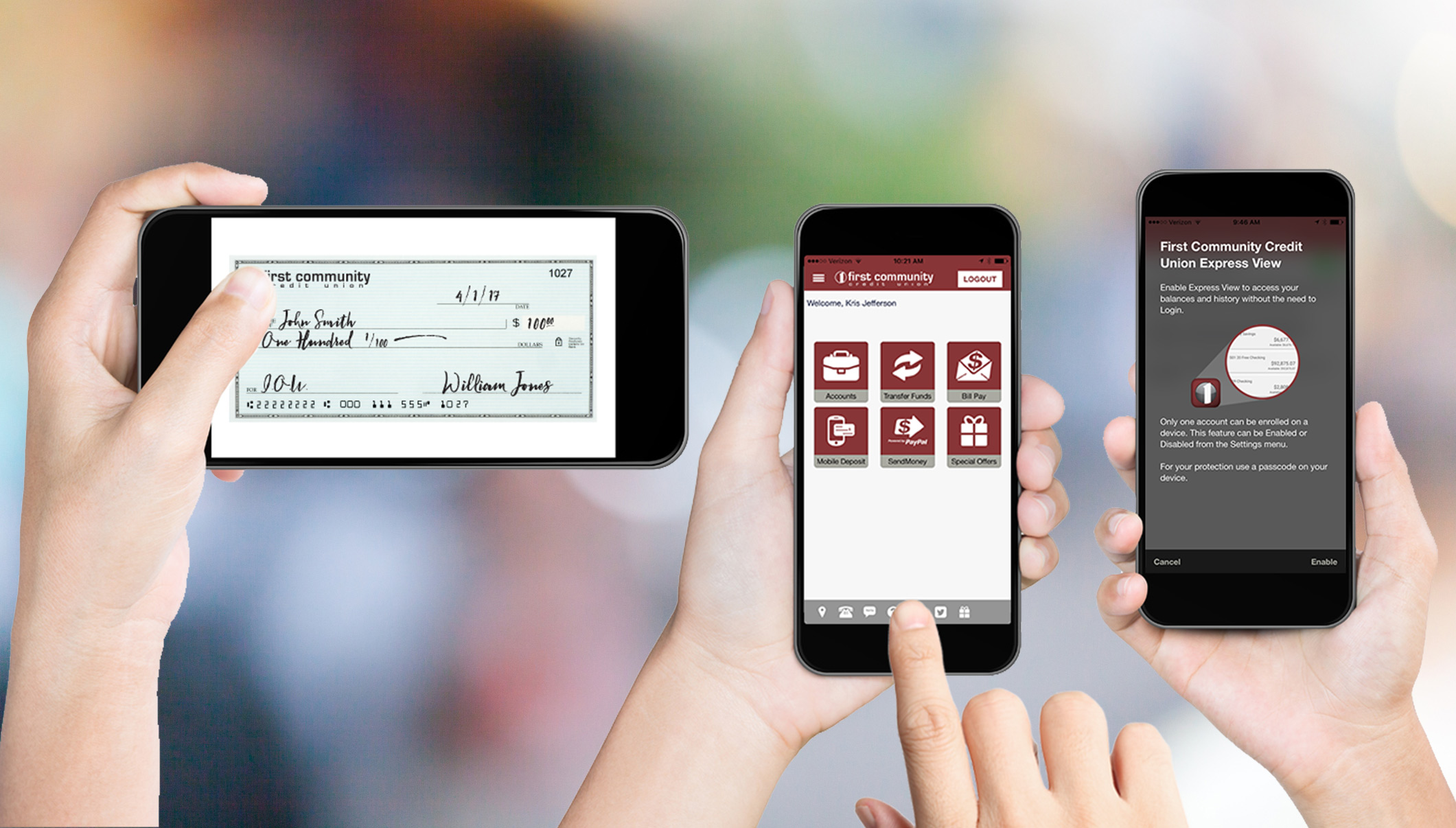 +
Security
Increased network security to protect your account information.
+
FAQs
Online Banking
When is Online Banking, Bill Pay and the Mobile App black-out period for the upgrade?
Online Banking will be unavailable from 4:00am to 10:00am PDT on May 9, 2017.
Bill pay will be unavailable beginning 2:00pm PDT on May 8, 2017 to 10:00am PDT on May 9, 2017.
During the blackout period, you will not be able to add new payees or schedule or edit existing payments.
Schedule payments prior to the blackout period, if you wish for them to be processed during the time of the upgrade.
What is responsive design?
The design of online banking will adapt and respond to the size of the screen on the computer or mobile device on which it is viewed.
Bill Pay
When I add a payee, why does the method default to check?
When you initially add a payee it will default to check until it is verified. Verification happens the following processing day. When the payee is verified as electronic it will automatically update the method to electronic. Subsequent payments will be processed as electronic.
Where can I locate my bill pay history?
Current bill pay history can be found in Online Banking at, Bill Pay > History. History prior to the upgrade on May 9th can be found in Online Banking at, Bill Pay > Bill Pay Archive.
I need to send a payment to another person. What are my options?
You may use PayPal through Mobile Banking to send payments using an email address. If you wish to send funds to another account in your name, at another financial institution, choose Transfers > Other Institution inside Online Banking. To transfer to another credit union member, choose Transfers > Make A Transfer > Other Member in the "To" drop down. You will need the member's account number and last name to complete the transfer.
Mobile Deposit
I made a deposit using Mobile Deposit. When will my funds be available?
You receive an email notification once your deposit has been confirmed and the first $200 will become available. The remaining funds will be available on the second business day following the date of deposit.
Does Mobile Deposit have a processing cutoff time?
If a Mobile Deposit is made by 4:00pm PDT on a business day that the credit union is open, the credit union will consider that day to be the day of the member's deposit. If the deposit is made after 4:00pm or on a day the credit union is not open, the credit union will consider that the deposit is made on the next business day the credit union is open.
Can I destroy my check after using Mobile Deposit?
Following receipt of the confirmation email for your deposit, you may destroy your checks.
How should I endorse my Mobile Deposit?
Please endorse Mobile Deposits with the term "Mobile Deposit." If your check has a checkbox to indicate the deposit was made using this feature, you may also check the box.
Can I deposit any check using Mobile deposit?
Checks drawn on financial institutions located within the United States may be deposited using Mobile Deposit. The check image must meet image quality requirements. Checks missing the MICR or other verification information will not be accepted. Foreign items, savings bonds, third party checks, remotely created checks, and substitute checks should not be deposited using Mobile Deposit.
Make Cents Savings Tool
I made a debit card purchase. When does the transfer to savings occur?
Transfers to saving occur at the end of the day. You will see one deposit into your savings account. The transaction total is calculated by looking at all transactions made during the day.
Can I access my funds after they are transferred to savings?
Yes. You may access your funds. Savings accounts are subject to the transaction limitations stated in your Membership and Account Agreement.
If I don't have sufficient funds in my checking account, will the transfer occur?
No. If you do not have sufficient funds, the transfer to savings will not occur. No fee will be charged if you do not have sufficient funds.
What types of transactions are rounded?
Only purchases made with your debit cards are rounded up. Checks, ACH transactions and transfers will not be rounded.
A New Look for the Balances Page