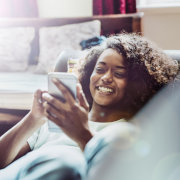 Online Banking
Discover how easy banking can be from the comfort of your own home or on the road with your mobile phone. Our Online Banking service is your connection to secure access to your accounts. Online Banking is free, convenient and safe.
Multi-Account Access

All your membership accounts can be accessed with one simple login for easy viewing and transacting.

View Login History

With a quick click of a button you can view your account Login History and select specific dates you would like to view activity for.

Transfers to other Members and Institutions

Transfer funds to another First Community members' account and to and from your accounts at other institutions.

Add Additional Savings and Certificate Accounts

From within online banking, you'll be able to open additional accounts with funds from your existing accounts, or funds transferred from another institution.

Account Alerts

Keep up to date with your account activity and choose alerts that fit your banking needs. Receive email notifications at up to 5 valid email addresses or devices capable of receiving email.

Notify Me

Receive email alerts each time your account is accessed.

Forgotten Password Reset

Reset your forgotten password online after answering a few security questions. Password reset is available 24/7!

Enhanced Account Details

Easily view the details of your account such as Dividend Rate, Dividends earned YTD, previous year Dividends earned and overdraft source.

Overdraft Protection

You can enroll your checking account in Overdraft Protection. Available funds from your linked savings, second checking account, or credit card will automatically transfer if you overdraw it.

Update Personal Information

Update your mailing address, phone number and email address.

Secure Messaging

Provides a secure method to communicate with us about confidential account information.

Order Checks

Reorder or make changes and add accessories to your checks.

Retrieve Check Images

View instant images of cleared checks.

Real-Time Stop Payments

Stop payments placed inside Online Banking are effective immediately and there is no charge.

Quicken/QuickBooks downloads

Download your transactions directly from your accounts inside Online Banking and import them into Quicken or QuickBooks.

Facebook and Twitter Feeds

View feeds from our social media sites inside Online Banking.
Bill Pay
Our new Bill Pay service offers simplified payment scheduling. View pending transactions and bill pay history all in one place with one click.
Watch the
bill pay demo
now.
Supported Browsers
The latest version and 3 previous versions of the browsers below are supported by our Online Banking Service. Some areas of our site may require the use of Macromedia Flash or Adobe Acrobat Reader. Other browsers and operating systems may work effectively; however, we do not test against them and therefore your experience may vary. We regularly monitor and test browsers to ensure the highest security standards.
Minimum Browser Requirements:
Internet Explorer
Firefox
Safari
Google Chrome