How to:
Transfer funds to another financial institution
Interbank transfers
Before transferring funds to another financial institution, you need to know:
The routing number of the financial institution you are transferring to
The account number for the person you want to transfer to
The routing number identifies the financial institution, and can usually be found on their website or through a Google search. The routing number for First Community Credit Union, for example, is: 323274238. Once you have these two numbers, we can get started.
Adding another financial institution account
Log in to online banking. Navigate to "Transfers" and select the "Other Institutions" option in the drop-down menu.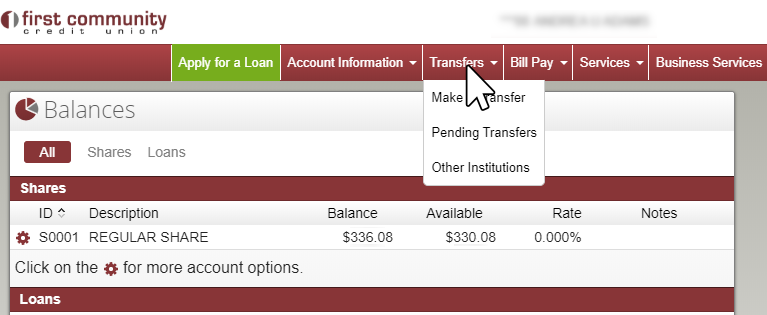 Before you can schedule a transfer to another institution, you need to add their account. Start by clicking the "Add Account" button in the top right corner (shown in the image below).

Enter the routing number of the institution you want to transfer funds to. The routing number will be nine digits in length. If the other institution has multiple routing numbers, select the main routing number for wire transfers. Click "submit" for the next step (adding their account number).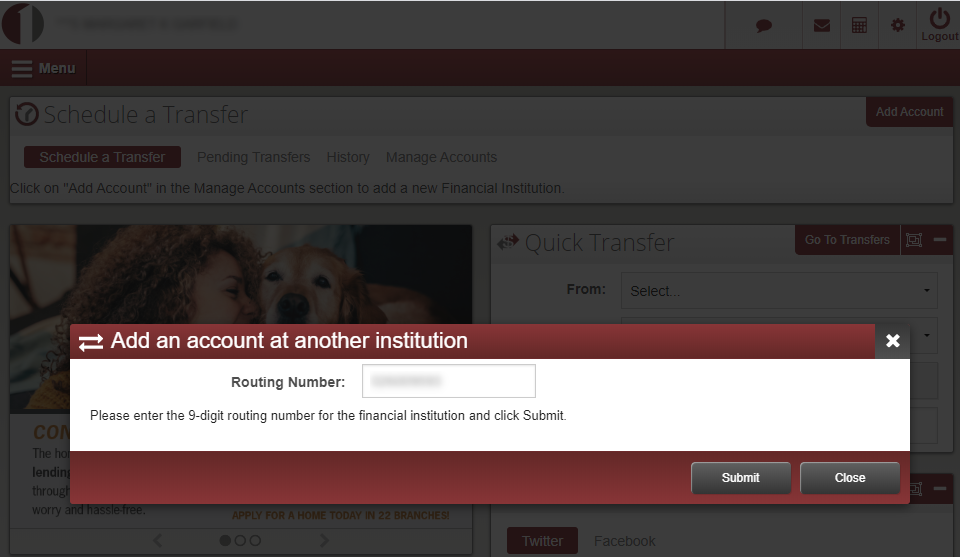 Then add the account number and select the account type, checking or savings. You can assign your description of the account in the "Nickname" box. This will help you identify the account easily to schedule a transfer. Before submitting the new account, please be sure to review the information entered. Then read and agree to the disclosure and click "submit".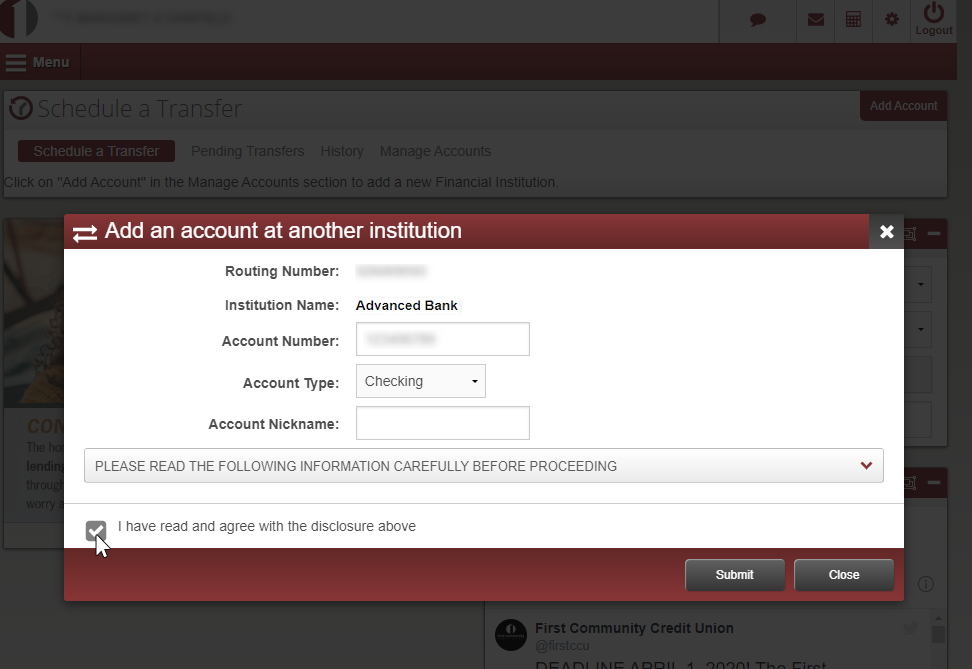 The process of transferring funds to another institution involves making a small deposit (under $1.00) and then withdrawing it again. This establishes a connection between the accounts, letting both financial institutions verify where the funds are being transferred. Establishing this relationship usually takes 2-3 business days (depending on the processing time of both institutions). Click "proceed" when you have read the instructions on the screenshot below.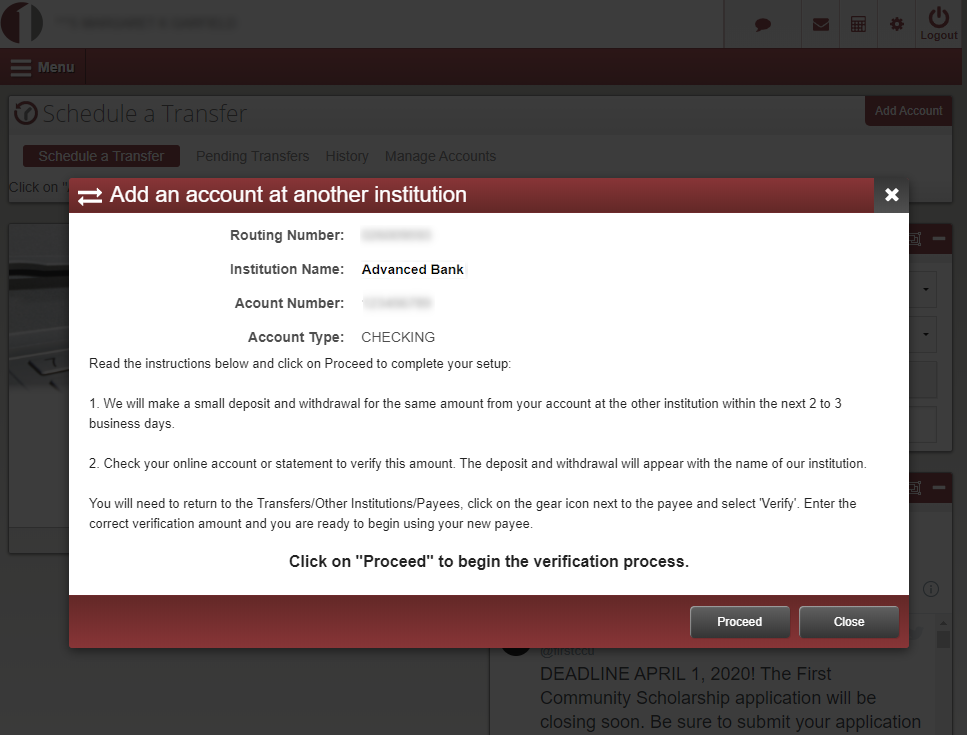 Once you have been notified that the small deposit and withdrawal transaction has been completed, enter the amount of the transaction by clicking on "Manage Accounts" then "Verify". Click the gear icon to the left of the financial institution name to edit or delete the payee account.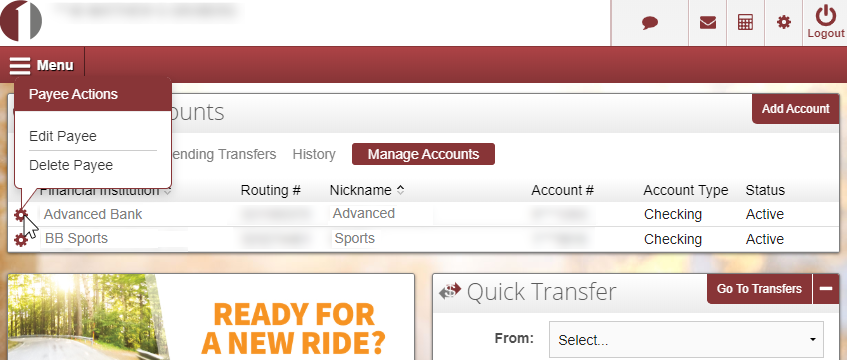 Scheduling a transfer
To add a transfer to another institution, navigate to "Transfers", then "Other Institution" in the top menu. Enter the transfer type (whether you are transferring from another institution, or to another institution).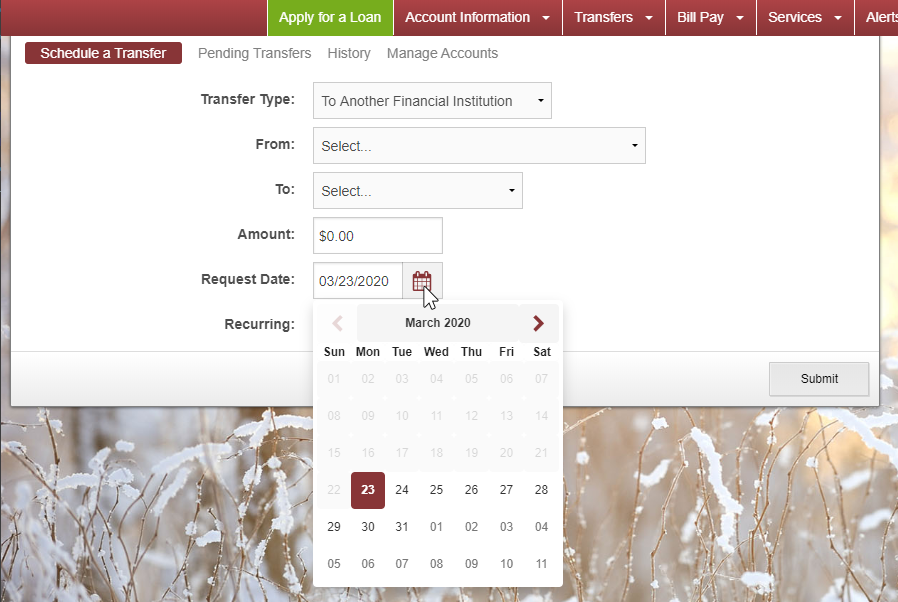 You can select a one-time transfer or a recurring transfer by toggling the recurring button. By clicking the calendar icon, you can select the "request date" for the transfer. Click "submit" to confirm the transfer. You can view and edit transfers in the "Pending Transfers" section. After a tranfer is complete, click "History" for details.
You now know how to transfer funds to another financial institution. If you want to learn how to schedule a transfer between First Community Credit Union accounts, click here for the tutorial.