What is Skip-A-Payment?
Members with loans eligible for Skip-A-Payment, have the option to skip a qualifying loan payment! Eligible members will be notified by mail and/or email. You may return the signed and dated Skip-A-Payment agreement by mail, or follow the steps below to skip a payment in online banking.
Skipping a payment
01
Log in to Online Banking
Skip-A-Payment is available during select times of the year (usually May and November). When the Skip-A-Payment option is available, you will be presented with a list of eligible loan payments in the 'Eligible Loans' section. Loan payments that have already been scheduled with Skip-A-Payment will appear in the 'Scheduled Skip-A-Payments' section. Check the box next to each loan payment you would like to skip and click the agree button below. (Note: A processing fee may be accessed when skipping some loan payments.)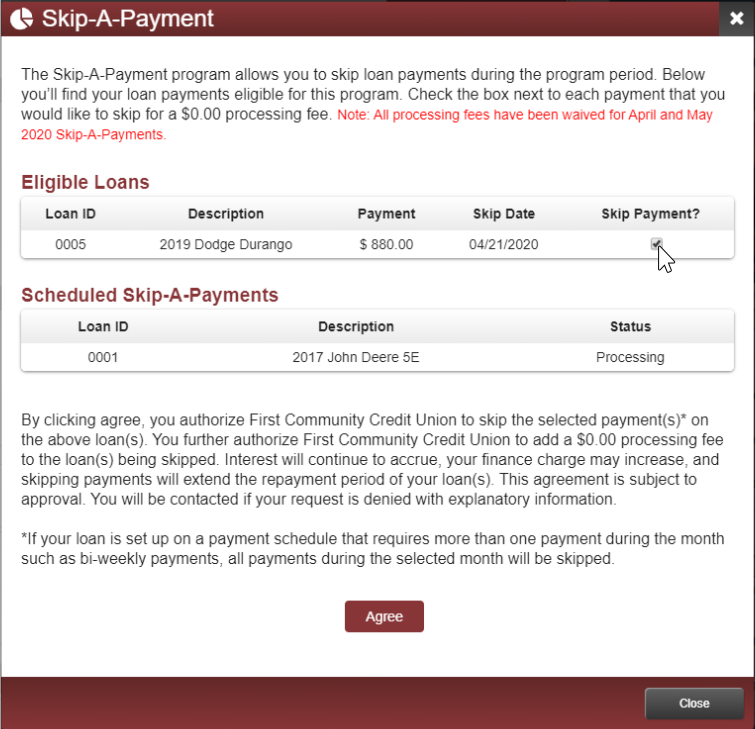 Review your selected loan payments to be skipped, the date they will be skipped, the due date for the next payment, and any applicable processing fees. Then click the submit button. Your request will be processed and we'll notify you when it's complete.